Why we do what we do...

Thank you for visiting Bar Harbor Coastal Cab's little home out here on the internet.

Quite simply, we do what we do because we love where we live. I was born in Bangor, about one hour away. My family has been visiting Acadia as far back as I can remember. I fell in love with the island as a boy. The love affair continues...

I had the idea to do taxi tours a few years ago. Previous to starting this tour service, I worked in Bar Harbor as a bartender for nearly ten years. Well, here we are now. You, with somewhere special to see on the island, and me, armed with nearly ten years of local stories and history passed over my bar, connecting online. Who said dreams never come true?

I started this tour service to provide folks with an alternative to "Big Bus Tours." Our staff is knowledgeable on the history and layout of the island. We provide you with island facts, history and local information, as you desire, while we transport you in safe, reliable and clean vehicles. We welcome the chance to get you to places on the island "Big Bus Tours" won't or can't go.

Helping you meet your transportation needs while you visit is also very important to us. It's our pleasure to pick you up at the airport, bus station or docks when you arrive. Of course, we will get you back on time when you have to leave us. We'll get you around!

We thank you for considering Bar Harbor Coastal Cab in your plans of visiting Maine. Call us if you have any questions.

I certainly appreciate your business!
Hope to see you soon,

Craig Wood ~ a.k.a. "Woody"
Owner


You can call me at (207) 288-1222.
I really look forward to showing you our island.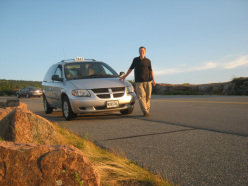 The photos you see on this website were taken on my escapades around the island. I hope you like them!
Here are a few more...

Like us on Facebook!

207-288-1222

Bar Harbor Coastal Cab accepts all major credit cards.