Fun things to do around Bar Harbor & Mount Desert Island

You may have already done some of these things. Either way, this will give you some insight as to what many locals like to do! Enjoy your stay!


Take a walk from Bar Harbor to Bar Island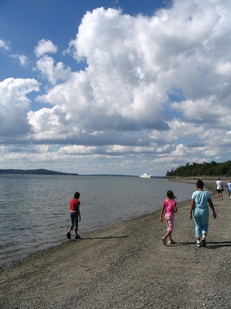 Sand bar at low tide
Twice a day you can make it from the town of Bar Harbor over to Bar Island by foot, bike or vehicle. At low tide a sand bar becomes a land link to the island, hence, the term, "Bar" Harbor. Part of Acadia National Park, Bar Island has a path leading to its highest elevation. At the top, there is an awesome view of Bar Harbor, Cadillac mountain and plenty of ocean. At least once a summer, a poor tourist will return to a vehicle they originally parked on the sand bar, and find it "doors-deep" in the ocean. Either they misjudged or had no idea about the incoming tide. One summer, upon arriving in town during a low tide, a tourist asked a local if the area was, "...having a drought?." So the lesson of the day is don't park your car on the sand bar for too long, and yes, we
are
having a drought, for about and hour or so!
Tide times
are available at
usharbors.com
.
They also have Sunrise, Sunset and Moon Phases on this page.
---
Mini Golf


ARRRRRRRR!
I'm not even going to tell you the name of the place where I "putt putt", or where it is located. For you, think of it like searching for hidden treasure on some tropical island. Don't let this guy on the left discourage you, he's not as mean as he looks, arrrrrrrr! Mini golf is a guilty pleasure of many locals and tourists alike. Don't get upset when you see us locals popping in a bunch of holes in one. We know the course! A clue for you? Pull out your buried treasure maps, look for a waterfall, a pirate ship and a bunch of scurvy dogs hanging 'bout. Don't worry, you'll find it!

---
Carriage Roads, Carriage Roads, Carriage Roads...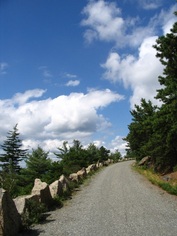 Around Sargent mountain
Thank you John Rockefeller for funding and building the beautiful carriage road system and bridges for all of us to enjoy! A place to walk, bike or run with no traffic to dodge. When you get on these carriage roads, its like being in another world. Winter, Spring, Summer or Fall you will find locals on the trails. Meticulously engineered and worked on by the man himself, these roads and bridges are a national treasure. If you are in Bar Harbor for a few days and want a nice walk, I suggest you start by trying the Eagle Lake loop of the carriage trails. You don't have to do the entire loop. Hike a shorter distance and head back to the start. If you like running, it's perfect,"...run Forest, run!" If you like bicycling, this loop is a good place to begin. Walk when you get tired. Take it easy!

---
Little Cranberry Island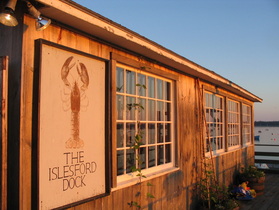 You can get to Little Cranberry island many ways. The best way, in my opinion, is get rich, purchase a yacht, pull up to the dock and firmly declare,
"Ahoy mateys, here's some money, I'm rich, let's eat & drink."
The next best way is have a friend with a boat take your poor soul. Otherwise, nature tours are usually available out of Bar Harbor for day trips. Some boats dock on the island and take you to the museum. Northeast Harbor has boats going out to the Cranberry's and most of the islands closer by. Manset is also a good place to inquire about boat services. Click
here
for Bar Harbor Coastal Cab's Maine Links Page and more boat information . Bon Voyage!
---
Let Them Eat Cake...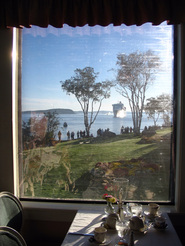 Most locals are pretty happy when spring rolls around and all the restaurants are open again. Bar Harbor is full of wonderful cuisine. Wake up to the most delightful blueberry pancakes you've ever had. Relax after dining on the most succulent lobster you've ever dipped in hot butter, fresh from the cold Atlantic waters right off the coast. Many of these restaurants offer specialty drinks. Just ask and you'll be surprised with the wide variety of cocktails you encounter in the little old village of Bar Harbor. If you've ever been here bar-hopping, you know the other reason for the name "Bar" Harbor. Just another drinking town with a fishing problem! Oh yeah, I almost forgot, for dessert, you can get lobster flavored ice cream.

---
Enjoy your stay on the island!

---
207-288-1222
Bar Harbor Coastal Cab accepts all major credit cards.