Cadillac Loop Tour
"...arguably, one of the most scenic drives, in the most beautiful National Park, in all the nation." -Me.
(2-3 Hours Usually)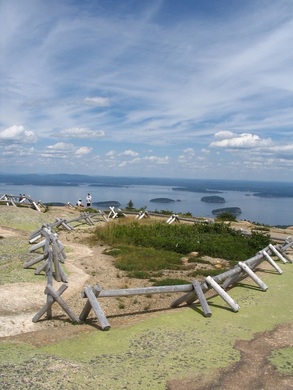 Acadia National Park's Cadillac Mountain
We start by making our way around Acadia National Park's Park Loop Road, exploring the coves, beaches and rocky granite coast which sets Maine apart. Sand Beach, Thunder Hole, Otter Cliffs and Jordan Pond are favorite stops. Enjoy a view of Jordan Pond and "The Bubbles" (above) while you dine on the lawn patio at Jordan Pond House, a treasure of Acadia. Check out the Jordan Pond House website to see their wonderful menu. Look for our web link on their home page if you get a chance!
We can ascend the winding road to the top of Acadia National Park's Cadillac mountain (left).
Cadillac mou
ntain is, often, the first spot in the continental United States to see the sunrise. It is the highest point on the eastern seaboard north of Rio De Janeiro. The mountain commands amazing views of Bar Harbor town, the Porcupine islands, Frenchman's Bay, Schoodic point, the Cranberry islands and quite often, cruise ships. If you want, we can start this tour by heading up Cadillac first.
Again, the time for this tour is usually 2 or 3 hours depending on how long you take at each stop.
---
Acadia National Park & Lighthouse Tour
" ...where many folks regret not going after summer vacation on Mount Desert Island."-Me.
(2-3 hours usually)

Northeast Harbor


Northeast harbor is a charming, elegant harbor with a perfect mix of pleasure yachts and lobster boats. Many folks "tie the knot" at the Asticou Inn up on the hill and have wedding photos at the spectacular Beatrix Ferrand Azalea Garden across the road. The Asticou Azalea Garden is great spot to visit year round and is easy to see on our way through. The road from Northeast Harbor to Seal Harbor winds among scenic coves and vistas the entire way. Seal Harbor is full of pleasure yachts moored where the ocean and outer island views are simply awe inspiring.


---

Sargent Drive


Acadia National Park's Sargent Drive runs right along Somes Sound, affording excellent views of Mount Desert Island's own fjord. Acadia National Park's mountain sides rise from the water on each side of this ocean inlet. The ocean water goes deep into Mt. Desert Island, in a way separating the island into two sides. Somesville is the island's first settlement. It is a quaint town with gorgeous view of Somes Sound. It is on the way to the "back", or "quiet" side of the island, home to more parts of Acadia National Park like Seawall and the Bass Harbor Head Light.


---

Bass Harbor Head Light


Bass Harbor Head Light is Mount Desert Island's only lighthouse. The lighthouse was built a few years before the start of the U.S. civil war. Bass Harbor and Bernard, both just a few minutes away, have beautiful views of Beech and Acadia mountains part of Acadia National Park on the "quiet" side of the Mount Desert Island. Here you will find some of the freshest local Maine lobster on the island. If you were hoping for lobster as part of your tour, we make arrangements for lunch to coincide with your tour at the best Lobster Pound on our island right in Bass Harbor.


---
---
Click here for regular taxi service fare information!
The exquisite coast of Maine, Mount Desert Island and Acadia National Park offer so many places to explore. Pull out a map and tell us where you want to go! If you want to be able to take your time and go places on your own terms, come ride with us.


---
207-288-1222
Bar Harbor Coastal Cab accepts all major credit cards.